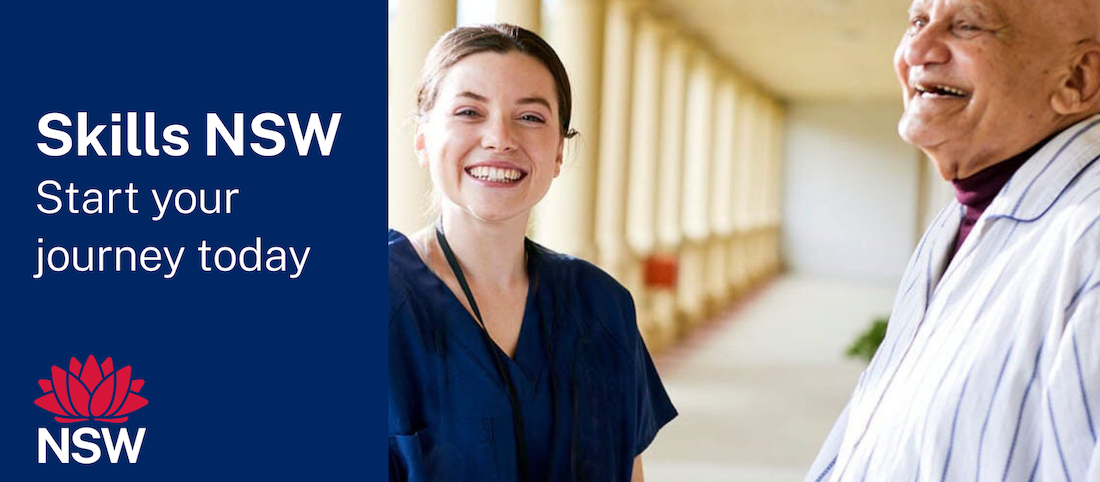 NSW Fee Free is a joint initiative of the Australian and New South Wales Governments.
Fee Free courses provide enrolment-free training for people wanting to train, retrain, upskill or specialise.
Fully subsidised training also enables more experienced workers with transferable skills to upskill, and work across other areas in the community services sector or at a higher level.
As an approved NSW Smart and Skilled provider, Wentworth College can assist eligible and suitable students to enrol in NSW Fee Free subsidised training.
Our nationally accredited courses (below) are listed as NSW priority qualifications and are currently available under the Fee Free initiative:
CHC33021 Certificate III in Individual Support
CHC43121 Certificate IV in Disability Support
CHC52021 Diploma of Community Services
CHC43415 Certificate IV in Leisure and Health
CHC43315 Certificate IV in Mental Health
CHC43015 Certificate IV in Ageing Support
*Training in priority qualifications is fee-free and fully funded by the NSW and Commonwealth Governments.
Am I eligible for NSW Fee Free Training at Wentworth College?
If you meet the following four criteria, you are eligible to study fee free:
I am an Australian Citizen, or Permanent Resident, or NZ citizen, or Humanitarian visa holder, and
I am aged 15 years or older, and
I am no longer at school (excluding home schooled), and
I live or work in NSW
If you would like more information about NSW Smart and Skilled Fee Free training, call our office 1300 138 792
Other Funding
NSW Smart and Skilled supports the skills development of the NSW workforce to meet the state's future demand for jobs, and helps people get training for in-demand skills and industries.
Wentworth College is one of select training provider's approved for NSW Smart and Skilled subsidised training, both individuals and employers.
Workers and employers in NSW have a range of government-subsidised programs to choose from including:
An entitlement to government-subsidised training up to and including Certificate III.
Government funding for higher-level courses (Certificate IV and above) in targeted priority areas.
New entrant and existing worker traineeships from Certificate II up to Diploma level.
Funding for part qualification or pre vocational programs.
Fee exemptions are available to eligible students who:
Are Aboriginal or Torres Strait Islander (through descent, self-identification or community identification)
Meet the Smart and Skilled disability criteria (proof of a disability support pension or documentary evidence from an appropriate medical professional is required)
Are the dependents of disability support pension recipients.
If you have a Certificate IV or higher qualification you are still able to access subsidised Smart and Skilled training, previous qualifications do not affect your eligibility.
For more information, please visit the NSW Smart and Skilled website https://skills.education.nsw.gov.au
For further information about this qualification, click here.
Eligibility Questionnaire
Study at Wentworth College
For a positive learning experience with like-minded students Enrol at Wentworth College. Call 1300 138 792